Submersible Aerator Pump KIRA SP Series
General
SP Series a result of rapid industrial development, enormous quantity of wastewater were generated, in the meantime large quantities of household waste water were also resulted from our daily lives. All these have affected the living quality and damaged the environmental ecology. For this purpose, KIRA has been making every endeavor in researching and developing waste water treatment equipment for years, now KIRA produces a series of industrial submersible aerators and surface aerators, which are capable of effectively treating wastewater and enable BOD & COD rate in the wastewater to meet standard. These aerators have been widely used in industrial wastewater treatment plant and small-scale municipal sewage treatment plant inside and outside the country.
Characteristics (refer to fig.A)
Submersible aerator pump KIRA SP series utilizes the rotation of the impeller coupled directly to the motor to create a centrifugal force, which makes local low pressure suck in water. Meanwhile the entrance of the Impeller results in vacuum to draw air from atmosphere. Water and air mix in the channel of aeration housing. The airwater-mixture current is discharged speedily by the centrifugal force.
Due to the water spurting extremely strong, make the fluid create convection and circulation effectively. Moreover the air becomes tiny bubbles. On the one hand the bubbles rise slowly, on the other hand the atmosphere oxygen is dissolved in water. Because the bubbles are tiny and numberless, their surface area is large, it makes the oxygen transfer rate per unit BHP higher than other types of aerator.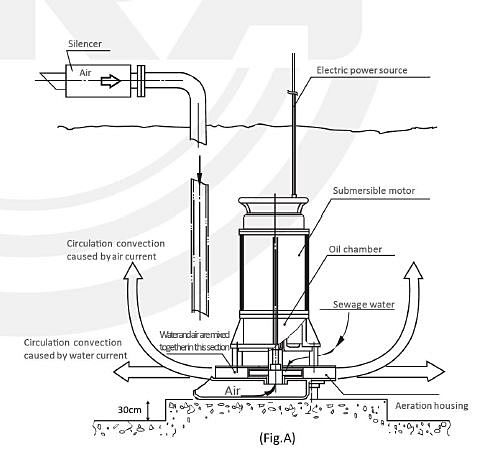 Feature
– Submersible motor directly drive, low noise, high efficiency.
– It has unique design for gas mixing chamber whose air intake quantity is big. Air can be mixed well with water. It also has mixing function while aerating.
– Adopt double mechanical seal, can extend usefullife of motor.
– Dual protection:
Using a high filtration rate of the filter mesh to prevent particles from entering aerator body while maintaining the air input capacity.
Enlarge the space between the impeller and the mixing chamber to avoid the impeller being stuck by foreign material.
4 Poles motor with 50Hz frequency for maximize Aerator performance.
Stainless Chain are provided together with Aerator unit for ease of install.
Qualified Silencer for reducing operating noise is presented together with Aerator unit
AIR SECIFIC CURVE
OXYGEN TRANSFER SPECIFIC CURVE